September 18 – Join us at our Egg  Harbor location for our 5th Annual Festival. Open to all parishioners, the festival features food, fellowship, and faith that represents our parish family to a tee.
Parish Festival News
Included on this page is a "WISH LIST" for our 5th ANNUAL PARISH FESTIVAL, which will be held on September 18. The "Wish List" is an opportunity for you to "bear much fruit" in supporting our parish celebration! In the coming weeks you will also have the chance to sign up to donate a food item or to volunteer your time and talent. The success of our Festival depends on all of us, Disciples of the Lord, contributing in some way. Like Mother Teresa once said, "We can do NO great things, only small things with great love."
Click here to sign up to help as a volunteer!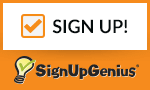 This online sign-up is the official sign-up for this event. If you are not on this sign-up… you're not signed up.